One Element Fitness - What to expect
You will be greeted by your One Element Trainer and introduced to some of our long-standing members. We'll help you get fit and get social.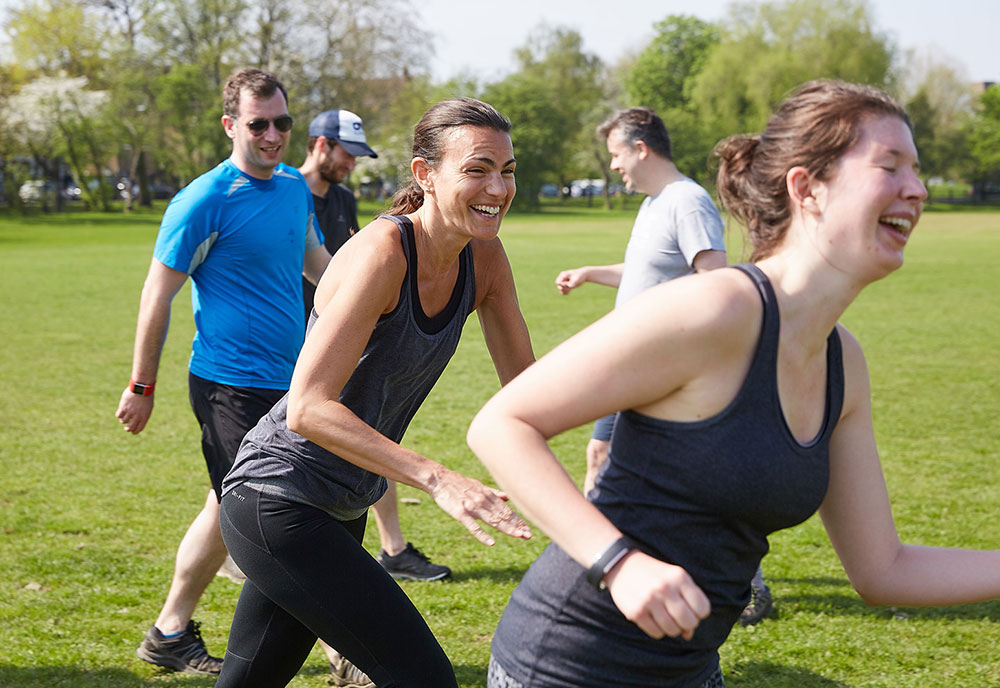 We're here to help you get fit and get social. Every session begins with a warm up, gradually building in intensity to ensure you are suitably prepared for the session ahead. The warm up also provides a great opportunity to chat to some of our members and find out more about One Element and what keeps them coming back.
Our trainers and members know each other by name and will be motivating each other throughout the session. They'll ensure you're included and part of the team. You'll see the supportive and positive atmosphere we've created and soon settle into the session.
One Element fitness sessions are challenging, you can do as much or as little as you like. There's no need to worry about your fitness level. There is no peer pressure – you alone will feel how hard to push yourself.
Once the session starts you'll see our members have hugely varying levels of fitness but they all train together and you'll be encouraged to take training at the pace that works for you. The main body of the session lasts about 40 minutes and differs every week. We finish each hour-long session with a spot of core training and a good stretch.
At the end of the session the Trainer will have a chat with you to find out how you found it, run through the membership options with you and answer any questions you may have.
Depending on the session, some of our members may go for a coffee, brunch or a drink afterwards so please feel free to join them.
You will leave a One Element training session feeling energetic and positive – that's a promise!
Membership allows you to attend any session at any of the locations in your territory.
Whatever your fitness level
Anyone can join. Honestly – we have members  aged from 18 to over 75. They all have a desire to get fit(ter) in a friendly group. We encourage everyone to try One Element. Whether you want to improve your general fitness and well being, lose a few pounds, become ultra fit or simply to make new friends. We're certain you'll enjoy One Element and our friendly community. Sign up for your free trial now.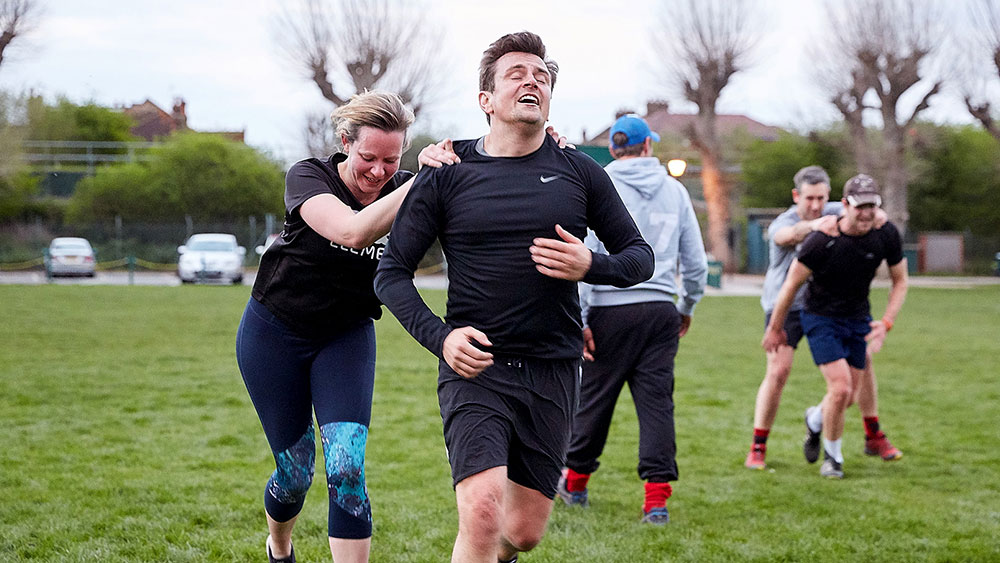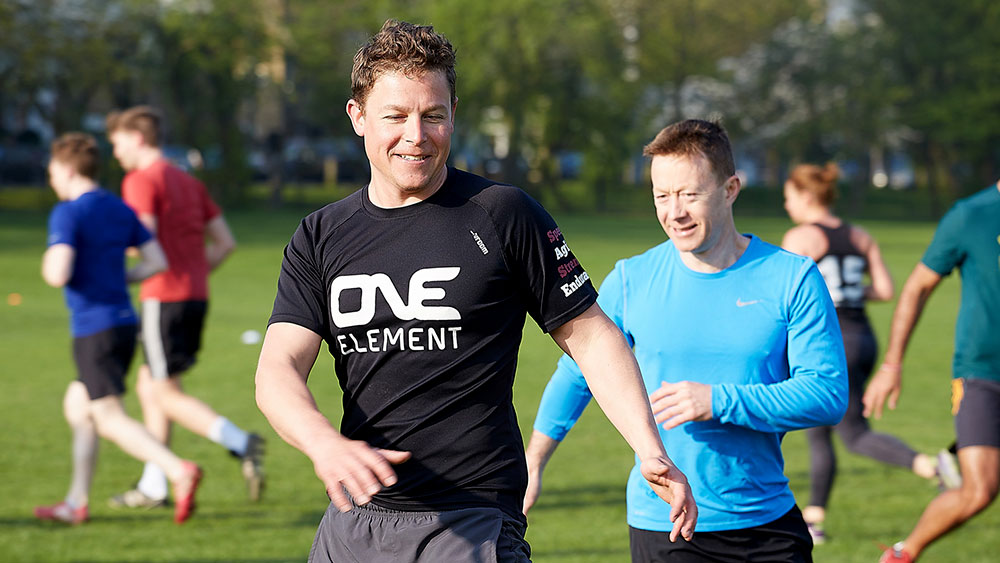 Workout gear and water to keep you hydrated through training. A one litre bottle would be best. We're not fashion conscious, so wear what you want, or check out our online store. In fact, after two weeks' training you'll be rewarded with your very own One Element t-shirt! In the cooler, wetter months the trick is wearing layers and studded footwear – and bringing one waterproof outer top, just in case!
The positive, supportive vibe at our training sessions is a result of the One Element ethos. Our sessions enrich your mind and body to deliver the best results both physically and mentally.
From post-training coffees, brunch and drinks to ski trips and sporting and social fitness events, we have something for everyone. That's because we know training with your friends works, no matter your age or ability.
Each year we have a packed calendar of events to keep you busy when you're not in the park, particular favourites of our members are the annual ski trip, the Halloween party and beach volleyball and bbqs.
Our members have developed lifelong friendships through One Element, in fact there's even been a couple of marriages and a baby!
We're also social online – come follow, like, share, engage with us virtually too. We share tips on how to get fit, inspiration and sneak peaks of our sessions.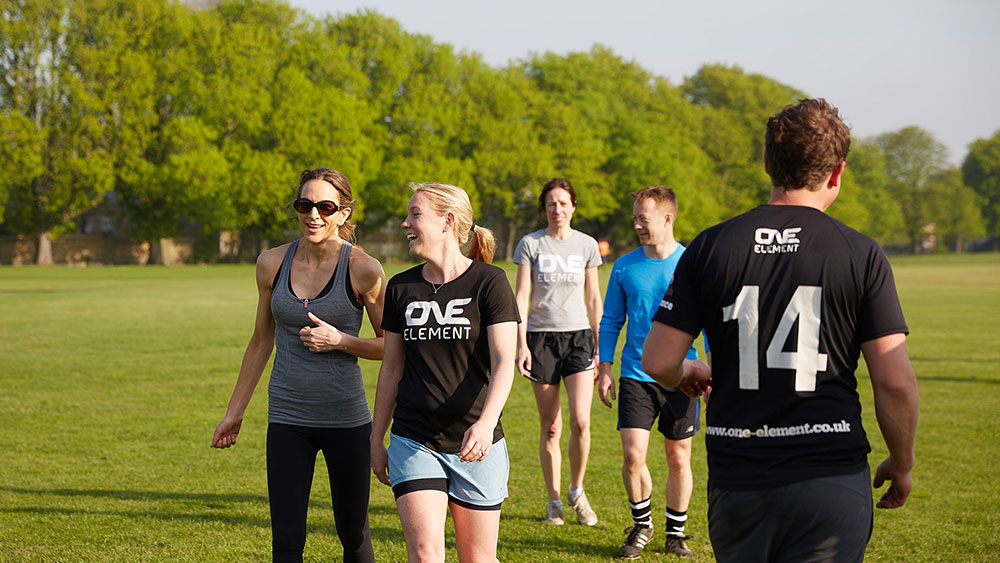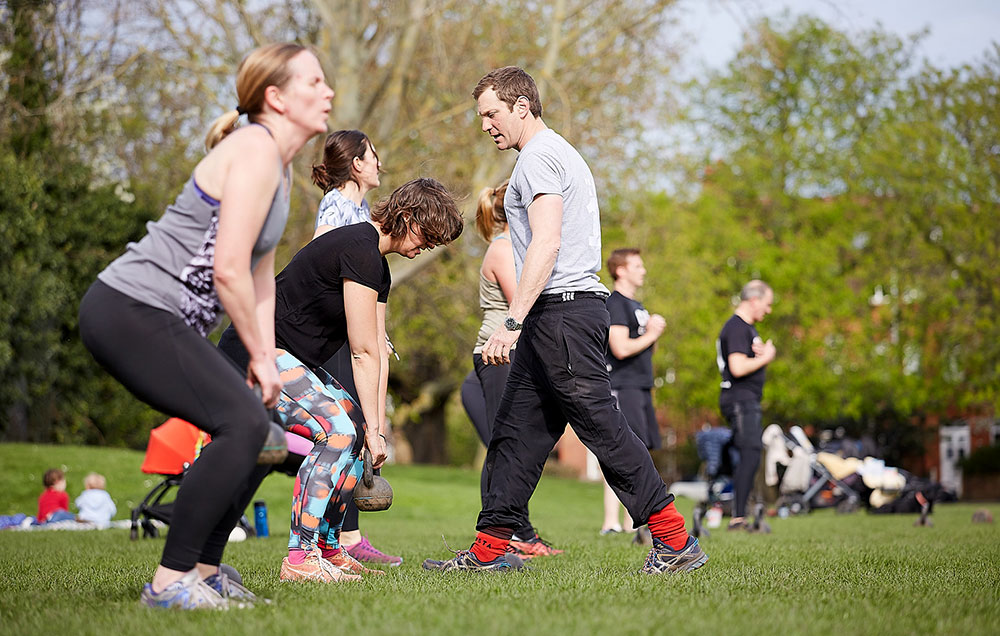 Thanks to popular demand, we've developed our own unique weight-training session to complement our main fitness-training sessions.
During the warmer summer months, at some of our locations, we run outdoor Yoga sessions for our members who want to balance their main training with Yoga stretches. These sessions leave you feeling wholly nourished, ready to face the world.