Welcome to The Butts Green, Alton
In the heart of the market town of Alton and just a short walk from the High Street, The Butts Green provides the perfect spot for outdoor fitness fans to meet.
We run sessions on Mondays, Thursdays and Saturdays and each session has the added benefit of some post-session refreshments! Choose from the South African Bring & Braai on Monday evening or Sylvie's Coffee Van on Thursday and Saturday mornings for a post-training snack. 
Our outdoor HIIT sessions across East Hampshire are challenging, fast-paced, inclusive and supportive. We ensure you make consistent improvements whilst pursuing your aims all within an ever-expanding community of like-minded members.
Pop along and join us for a free trial. You can try any session across East Hampshire and, as a member you can train in any of our park locations giving you access to both Selborne and Alton session times. 
Having successfully grown a One Element community at Selborne Rec, Georgie launched the Alton sessions in mid-2021, with sessions on Thursday and Saturday mornings to complement those on Monday and Wednesday at Selborne.
If you have any questions please contact Georgie.
E:

georgie@one-element.co.uk




P:

07766656413
Train: The Butts Green is a short 20 minute walk from Alton train station via the High Street and continuing south west along Butts Road
Car:
The Butts Green is a 2 minute drive from the A31. Using the exit towards L
iss/
Selborne
/
Odiham
/
Community Hospital and
following Selborne Road / A339 and Butts Road to The Butts. Parking is available along Butts Road.
Look out for: Our Trainers will be wearing a clearly marked One Element t-shirt, with 'Trainer' on the back and have a One Element flag in the ground.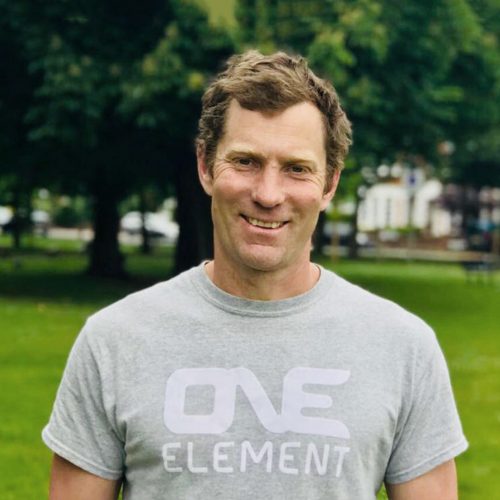 What is your role Role with One Element?
Founder and trainer at various locations.
What is your fitness background? After qualifying in 2005 with a goal of becoming a rugby coach, I managed gyms until 2007 when I set up One Element. My goal was to develop an outdoor fitness concept that brought together the very best training techniques with a social fitness community where people can build life long friendships.
One Element was born and in the intervening years we have drawn from international level coaches to develop a peerless evidence-based fitness training programme.
What gives you the most satisfaction from One Element? It's all about the people for me, there's nothing better than seeing our members get stuck into the training programmes in the park, putting their heart and soul into it, no matter the weather, and seeing their fitness progress, improvements to their wellbeing and making lifelong friends.
The generosity of spirit that people have towards each other during and after the sessions, supporting each other achieve goals, knowing when to push each other and watching members build long & enduring friendships (the occasional One Element marriage and children) often when they did not have the expectation of this when they became a member is hugely rewarding.
In addition to this, I obviously love being outside, in the sun or rain enjoying the wildlife whilst we train.
What is your favorite song? Gumbo Variations from the Hot Rats album by Frank Zappa (no one else likes this song - so I can only listen to it on by birthday ;-))
Best meal you have ever had? La Conca Del Sogno on the Amalfi Coast - location, food, wine, all perfect.
What do you do in your free time? Family, walking, gardening and renovating an old house.
You will be greeted by your One Element Trainer (wearing a One Element top with 'Trainer' on the back) and introduced to some of the long-term members.
Every session begins with a warm up, gradually building in intensity to ensure you are suitability prepared for the session ahead. The warm up also provides a great opportunity to chat to some of our members and find out more about One Element and what keeps them coming back.
Our trainers and members know each other by name and will be motivating each other throughout the session and you'll soon feel included. You'll see the supportive and positive atmosphere we've created and soon settle into the session.
One Element training is deliberately challenging, you can do as much or as little as you like, there's no need to worry about your fitness level. There is no peer pressure – you alone will feel how hard to push yourself.
Once the session starts you'll see our members have hugely varying levels of fitness but they all train together and you'll be encouraged to take training at the pace that works for you. The main body of the session lasts about 45 minutes and differs every week.  We finish each hour-long session with a spot of core training and a good stretch.
At the end of the session the Trainer will have a chat with you to find out how you found it, run through the membership options with you and answer any questions you may have.
Depending on the session, some of our members may go for a coffee, brunch or a drink afterwards so please feel free to join them.
You will leave a One Element training session feeling energetic and positive – that's a promise! If you don't believe it, join us on Instagram to see the latest feel-good pics.
From post-training coffees, brunch and drinks to ski trips and sporting and socialfitness events, there's something for everyone because we know training with your friends works.
View Events