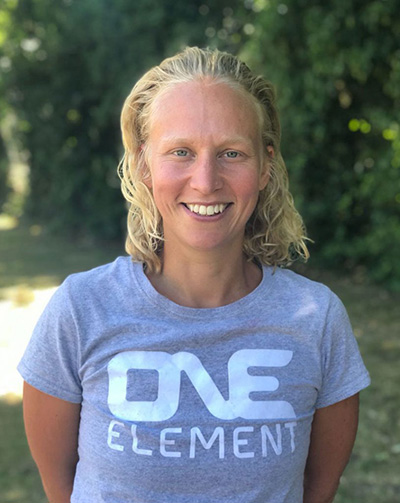 Kate has been part of One Element since 2010, first as a member, then as a trainer and now as a franchise owner of One Element Tooting . Find out why Kate is so attached to One Element!
Can you give us some background on your experience in the fitness sector?
I have worked as a fitness trainer for nearly 18 years and a personal trainer for 10 years. Exercise is a hugely important element of my life; it has helped me both physically and mentally in the toughest of times and as a result I am so passionate about spreading its benefits to the everyone. I have never worked for large gyms/companies, preferring to work for myself in group training or 1-2-1 based environments.
Why did you decide to invest in One Element Tooting? 
One Element is amazing. I first started as a member well over ten years ago, which is how I met Tom our founder, and as a trainer I have been involved for about 3 years. I have fully felt the benefits of taking sessions and building new friendships within the company. Being involved helped me through a very challenging personal time and I am passionate about helping others through theirs or enhancing their lives in general. I decided to invest because I think there is so much to be experienced from encouraging the growth of a company whose ethos is grounded in a love of the positive impact both exercise outdoors and meeting new people can have.
What do you love about the One Element training programmes? 
They are so challenging but they're also great fun. There is really space to take them as needed dependant on your fitness levels; there is space for both competitiveness and taking them easy on the tougher days. As a trainer, they're easy to follow and as a member they are always varied.
What does the One Element brand mean to you? 
Kindness and living life to the max — I have only ever been shown kindness and support from anything connected to One Element. I have never fully appreciated the outdoors and life in general until being involved with the company.
What are the advantages of being a One Element franchisee rather than setting up on your own? 
There is a great pool of knowledge to draw from and support from HQ and other franchisees. The sessions are brilliant, very effective and save a tonne of time with needing to plan my own. There is also a brand to buy into and a company that has already been successfully running for over a decade.
Can you give an overview of the first year of you running your OE franchise? eg in terms of membership growth, socials, marketing, systems, sessions
It hasn't been without its challenges running it alongside full time work and I think as a business it needs daily care and attention, but it's doable and not onerous. Our membership has grown, as has the life and soul of our socials which is a fantastic feeling! I work with a very competent business partner and that has been so great for being kept accountable and on my toes. It has meant we keep each other going when things have been challenging and celebrated when we feel we have made a positive turn. We have so many opportunities still grow our franchise and I'm looking forward to seeing that pan out in 2020 and the next few years!
Is there any advice you would give to someone thinking about franchising or perhaps setting up their own business?
I have always had mentality that it is better to have tried than to not and regretted it. I would advise to ask all the questions that might crop and ensure you have a clear idea of your "why" behind the investment. Don't do it just for the money, you need to really care about the members, fitness and the brand. Come & join us!
What are your goals for the future?
To encourage as many people as possible to experience the most colourful life available to them. Having experienced great personal challenges in my life, for everyone who experiences similar, I would like to help them realise how amazing things out there really can be, and all it takes sometimes is getting to a One Element Session!