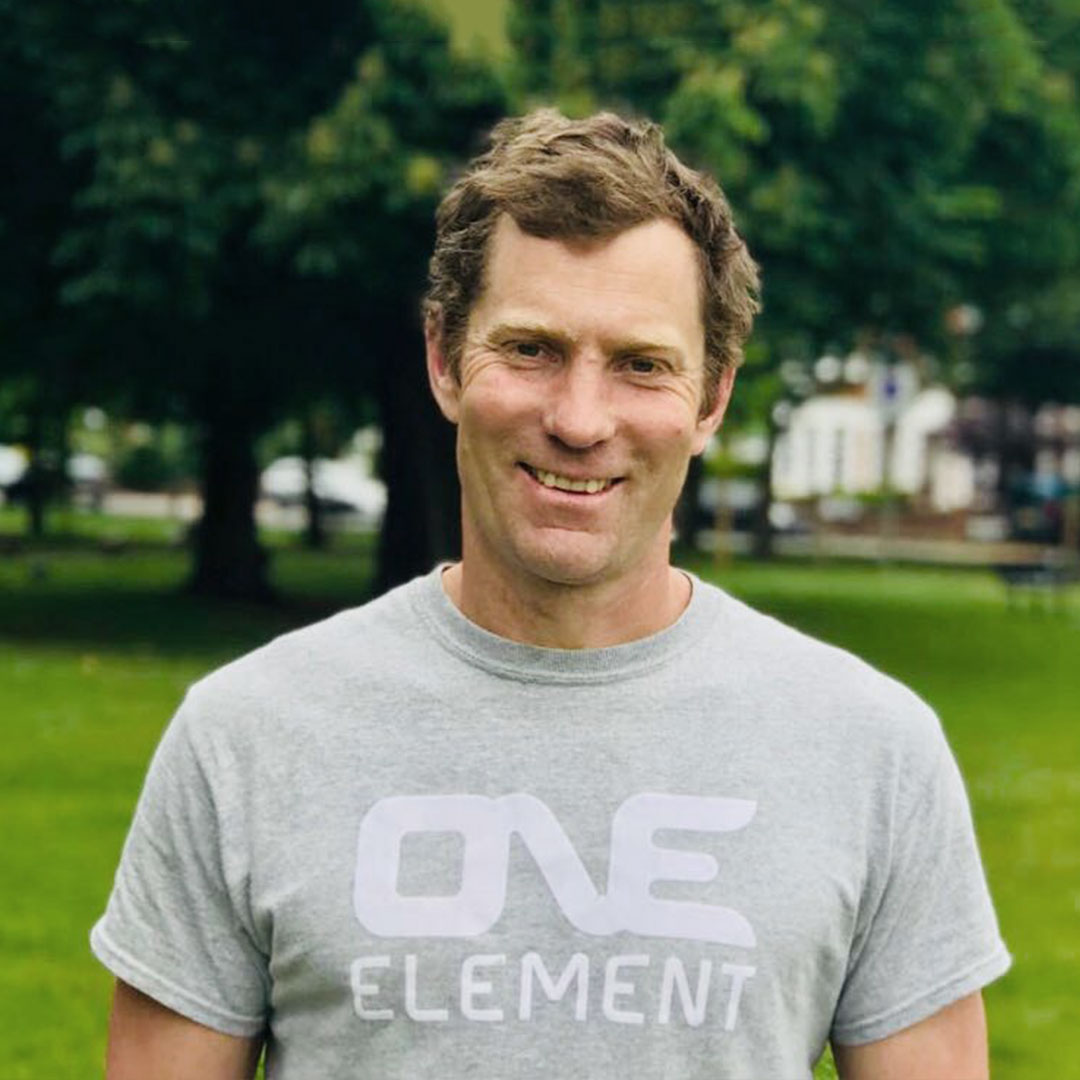 The History of One Element: The Opportunity
Introducing Tom
I am Tom and I started One Element in 2007. I have had a huge amount of help over the years from members and colleagues, but here I dip back into the very early days and try to share with you why I felt One Element's fitness community was a good idea…
The Coaching World
Having spent seven seasons in the French Alps and New Zealand; teaching and guiding skiing and snowboarding I suffered an injury that meant I needed to find a new route in life. I returned to Hampshire to set up a tree surgery business, and played some rugby for the local club at Petersfield. After about 18 months and a particularly hairy moment taking a big Beech tree down over a road, ahouse, power and telephone lines and a footpath I realised I was not convinced I wanted to do this work forever. In fact, I had no idea what I wanted to do. All my friends had been through university and were starting jobs in London and seemed to be accelerating in life. After a long conversation with my parents, I thought teaching would be good, perhaps PE and particularly rugby would be a good route forwards. After a training session at my local rugby club I asked the coach for a chat and mentioned I'd like to get into rugby coaching. He felt that I should look at going into the coaching world through the fitness door and do a diploma in fitness training and sports massage.
The Gym
Six months later; armed with fitness, and sports massage qualifications. I headed to London to work at (what was) Holmes Place now Virgin Active in Clapham old town. I did inductions and cleaned gym equipment. I had barely been in a gym before, all the exercise I'd ever done had been outside in the mountains, on the rugby pitch or running on footpaths and lanes, not this. The loud music, six wide screen TV's showing news and sports, a weights area surrounded by mirrors, rows of machines, personal trainers working the floor and no one really talking, no eye contact, no smiling – I had joined the week after the 7/7 London Bombings in July 2005.
Learning
Within the gym there was a clear pecking order. From me, at the bottom, cleaning the sweat off the treadmills, then the Personal trainers, then the gym manager who helped the PT's and looked after the profit and loss sheet for the gym floor hitting targets etc and then the club manager – who ran the whole business and reported into the Holmes Place HQ. Having been there for six weeks there was an opportunity as a gym manager which I applied for and astonishingly got, I was now in charge of the 15 Personal trainers, their targets and helping train them up. It was great fun and we were given real insights into the way the business model worked and how to run a big business, weekly meetings and lots of coaching and development.
Fitness AND Social
Flintoff was single handedly winning the ashes for England, and pre season was starting in all the rugby clubs across London, so I found the nearest club – the "Old Wimbledonians" in Raynes Park – and went along for their pre-season fitness sessions. They had a first team and a second team so I imagined we'd get maybe 10-15 players coming along for the dreaded fitness sessions, but as we were warming up, the numbers kept swelling: ex-players, sometimes with their teenage boys were coming along, all the first team and second team were there, and some had bought friends along. There must have been at least 60 people from 16 years old to 60. The coach, an ex-player and ran some great sessions – all body weight and cardio – and after each session we would have a beer and some food in the clubhouse. They were enormously welcoming, it was fun, it was superb fitness and you left feeling energised not just by the fitness but by the social.
The Opportunity
The next day I would walk into the gym, the powerful smell of the cleaning fluids as I pushed the gym door open, the music loud, the place sterile – physically and socially. The contrast with the rugby club – people covered in mud, no designer clothing, everyone levelled – seemed so powerful. What's more, over the next 6 weeks of pre-season training with the rugby club I could see the players transforming physically, getting leaner and faster, perhaps improving more than the PT clients we were working with. There was something else happening as well, something we probably didn't fully appreciate back then, but people at the rugby club were building friendships and that almost intangible psychological resilience we get from being in a group, the friendships being nurtured, the playful chat and 'banter'.
After 6 weeks of pre-season training at the rugby club, we started to do the contact work, tackling and scrummaging. Most of the players who had come down for fitness stopped as they didn't want to injure themselves or be cajoled into playing. We were left with the core players for each team, at least half had left. Was there an opportunity here for people who loved the fitness, the social, reacquainting old friendships, the beer after or perhaps just the hour or two away from work or the family with another healthy group? Was there perhaps an appetite for this kind of fitness training from the wider public?
There was only one way to find out…
Join our Fitness Community
Book your free trial with One Element today and find out if our unique mix of training and socialising is for you.
Join our Fitness Community
Book your free trial with One Element today and find out if our unique mix of training and socialising is for you.