What should I expect at a typical One Element session?
There is always a general feeling of trepidation when you try something new. Is it for me? Am I capable of it? Will it exceed expectations? Can I conquer the nerves? It isn't just exercise, it's anything in life. The heart rate rises, the mind cranks up a few gears, the feelings of doubt flood in. And in a parallel mental space, the feelings of excitement burn bright, the anticipation, the expectations and the satisfaction that you are stepping out of a comfort zone and it's in this unknown space that your world can come alive.
It's easy to let nerves overwhelm on occasion. The easy option is to talk yourself out of an uncomfortable situation, opt for the comfortable route and stick with 'what you know best'. But, just stop for a second and picture the journey. Visualisation is such a powerful tool when the mind is playing tricks.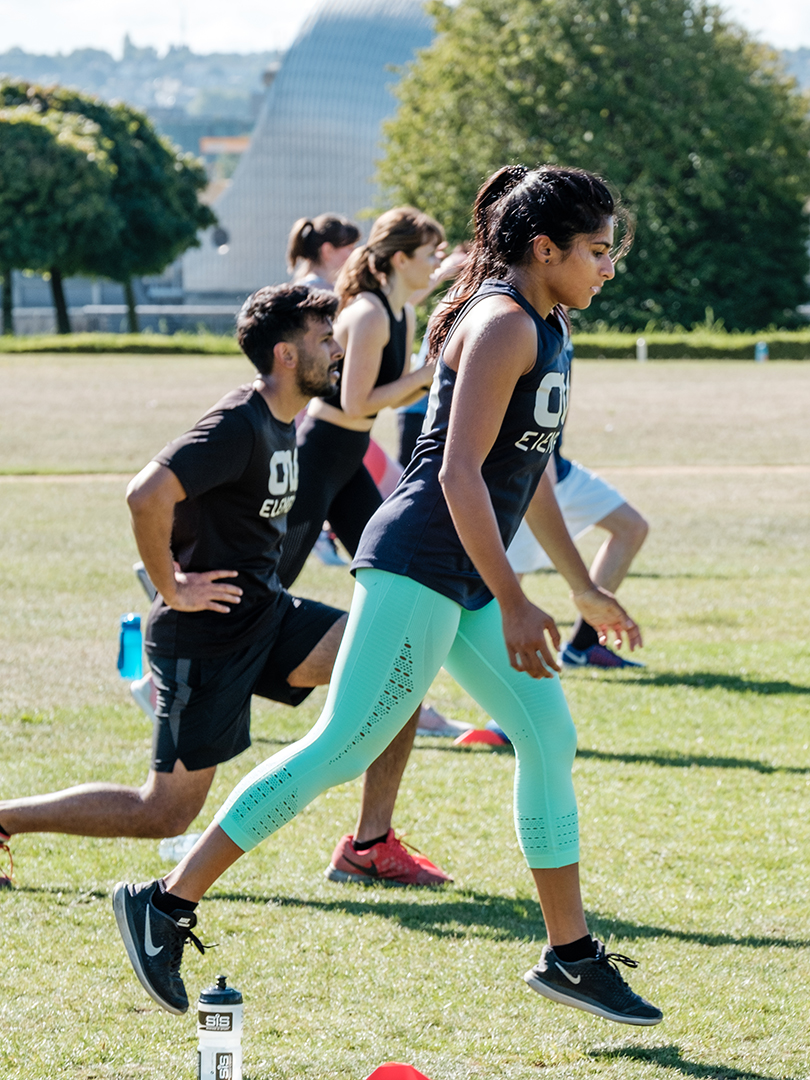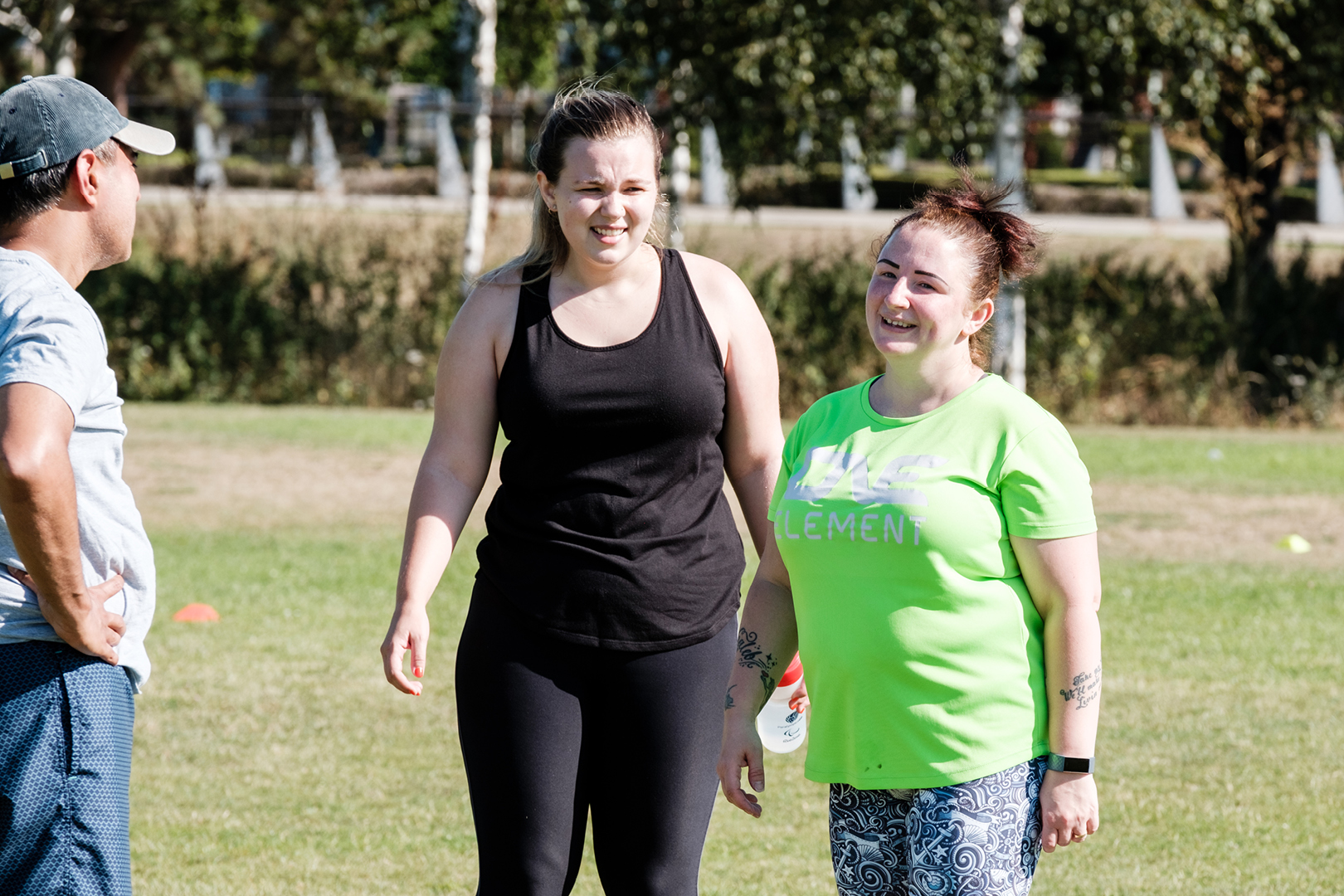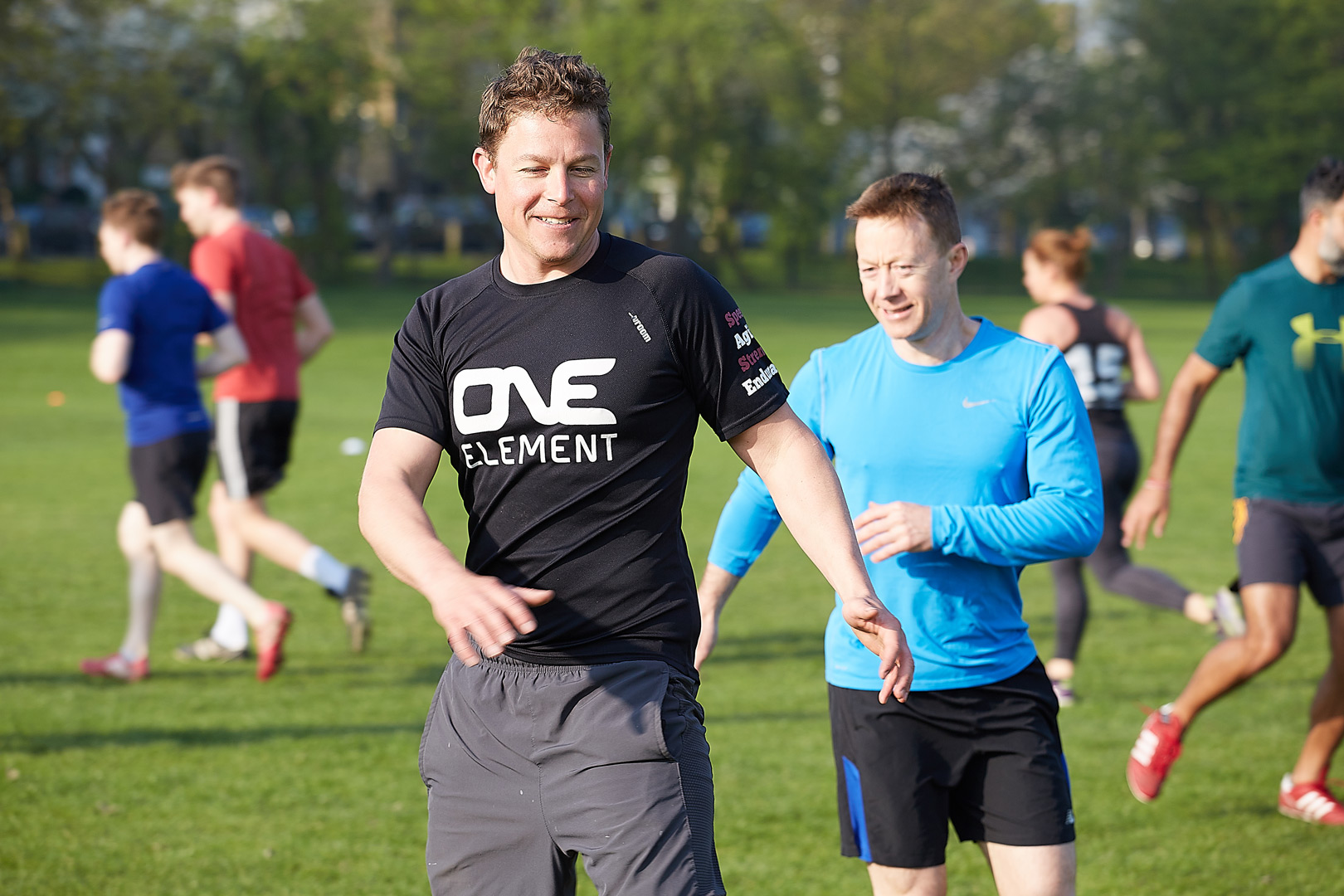 So visualise this.
You know that you want to try a One Element session. Perhaps your motivation is a return to fitness. You might be starting your fitness journey. The social side jumps out at you. The feeling of training as a squad is missing from your life and you see that in One Element. Whatever your 'why' is, keep circling back to that.
Now picture yourself travelling to a session. Perhaps you're jumping on your bike, taking the bus, walking from home, picture the route you're going to take, the sights you'll see, the smells, the buildings, the trees, the park you're heading to.
"I was apprehensive before the session, doing something new and out of my comfort can be overwhelming. But this disappeared the moment I arrived. The trainer and group are so welcoming I felt like I'd known them for years"
You've arrived.
You're present in that park, you spot the One Element flag, the water bottles scattered on the ground, a group of people of all ages chatting and smiling. A trainer approaches you, an immediate sense of feeling welcome, assured that you work at your own pace and rep range; introductions are made. The smiles are ever present. There is a fleeting moment when you know you could walk away from this. But why would you? Come back to your 'why'.
Picture yourself standing in a group of people who are chatting away. They welcome you. The trainer invites you all to wander up to the line. You take a deep breath and as you look to your left and look to your right along the line you know that you are, in this moment, part of this squad. They will have your back, they will call your name out and however much you choose to do is met with encouragement.
Book your FREE TRIAL now
Register for your FREE TRIAL today and experience a One Element session for yourself.
BOOK NOW
"The first session was so much fun, exhausting but you always feel amazing afterwards. The group is so friendly and welcoming, making exercise feel enjoyable!"
Now picture yourself walking away from the session.
You gave it your all. You had pats on the back at the moments where it felt hard. You know that if you come back you'll get to know these members better, they have cheered you on and they'll do it again. Picture yourself at the next session supporting someone else who walks in for the first time. You will know exactly how they feel. That it's ok to feel a little nervous but you can do it.
So live in the moment. Find your why. Picture your journey. Plot your route. Write your own script. And we'll see you out there!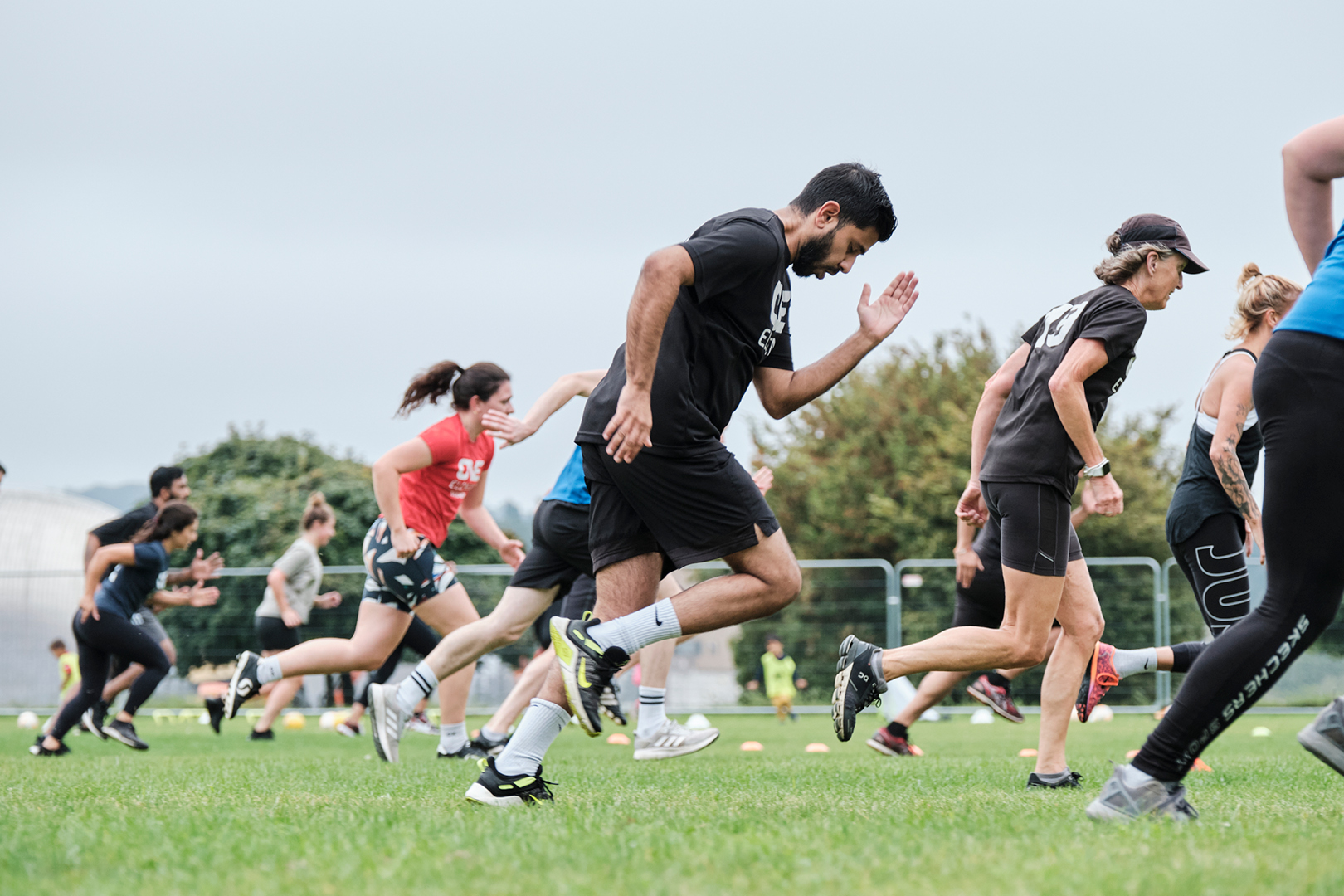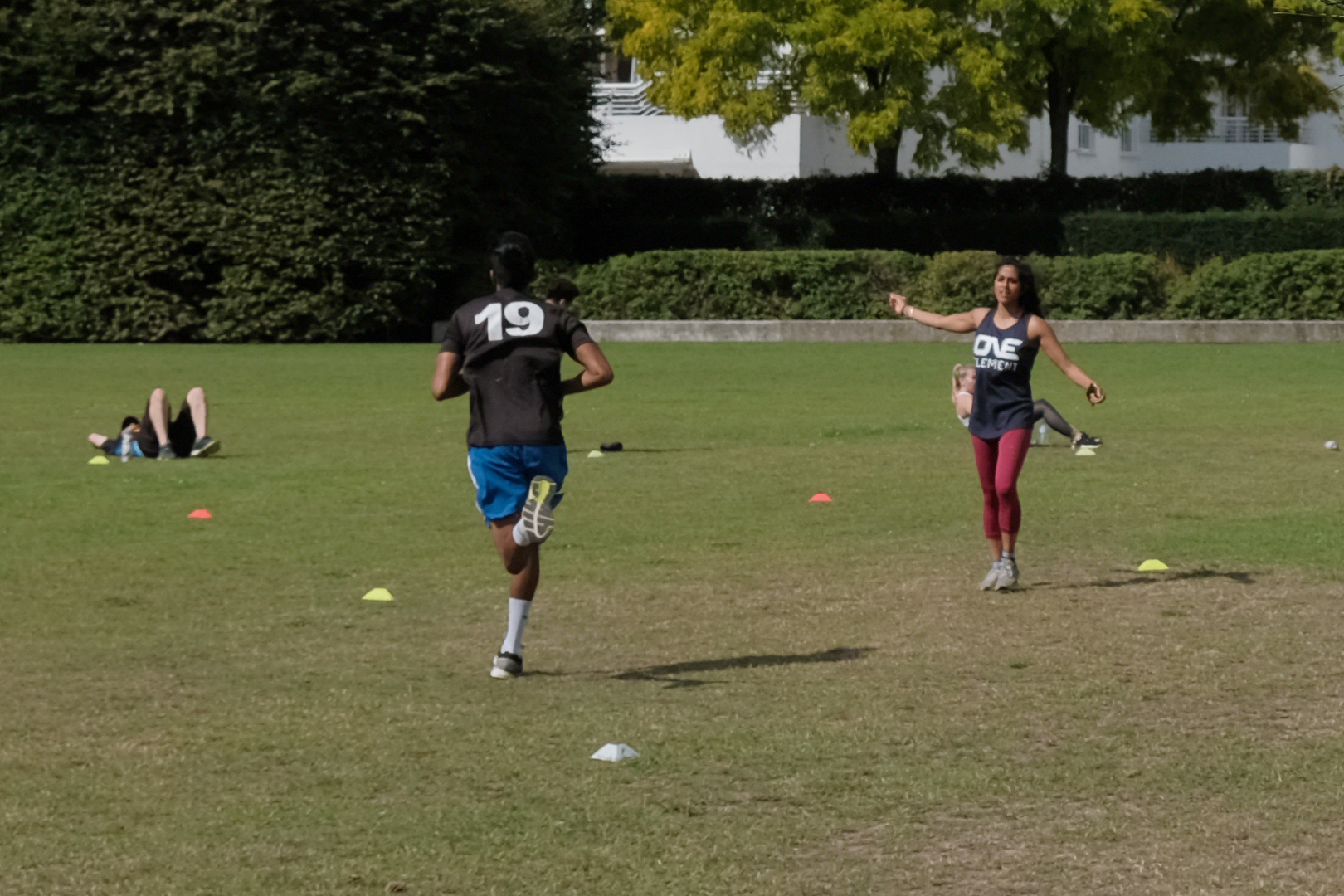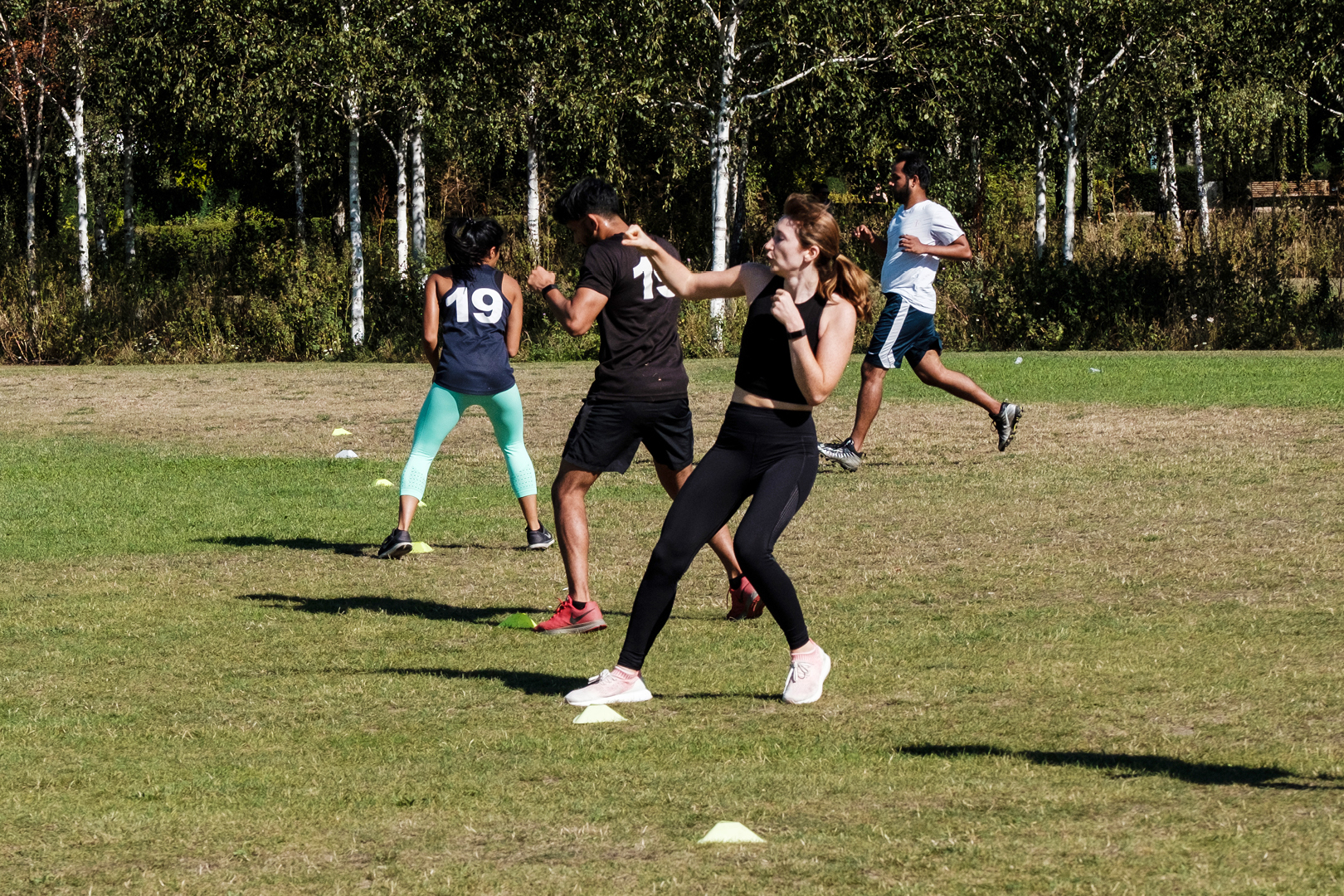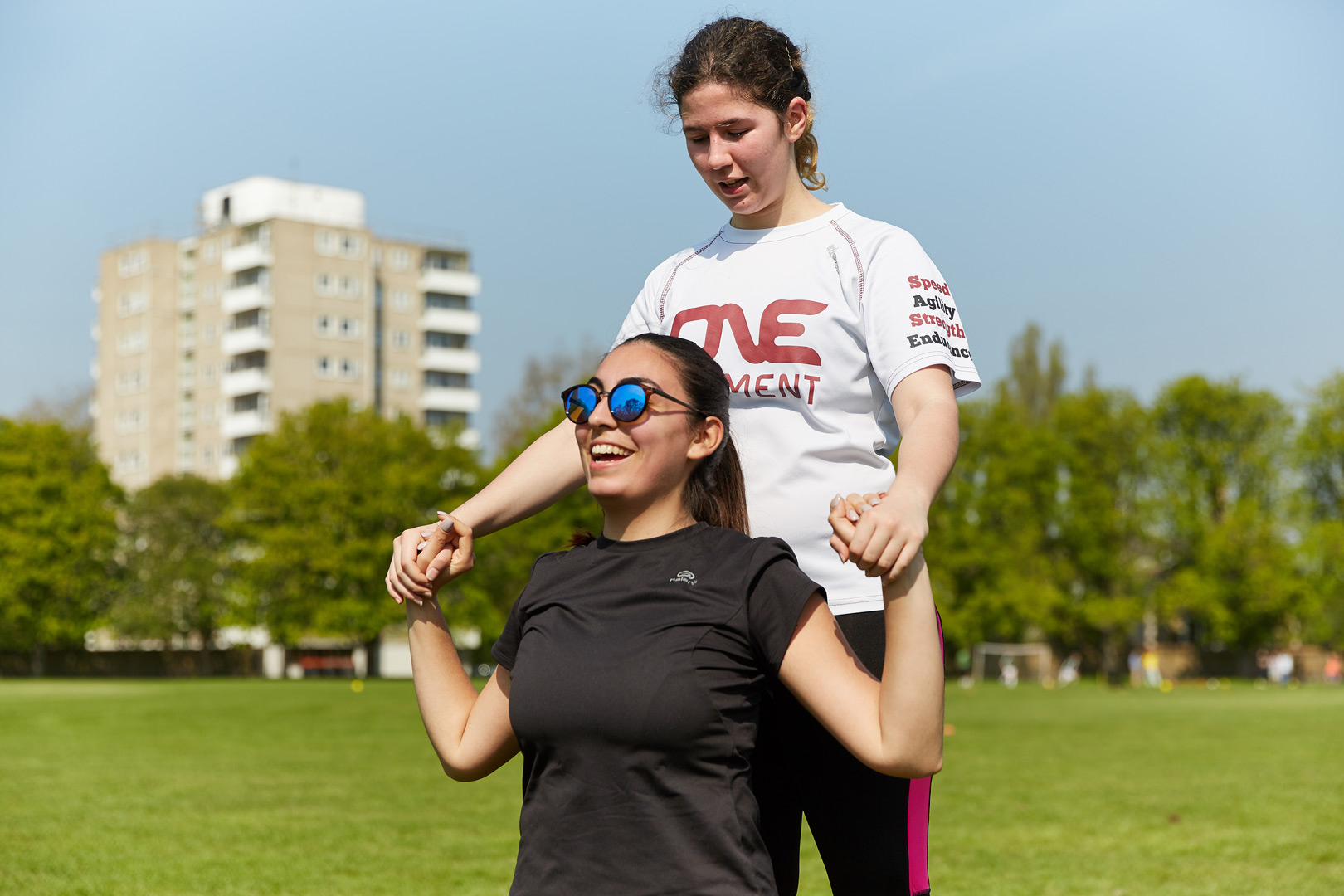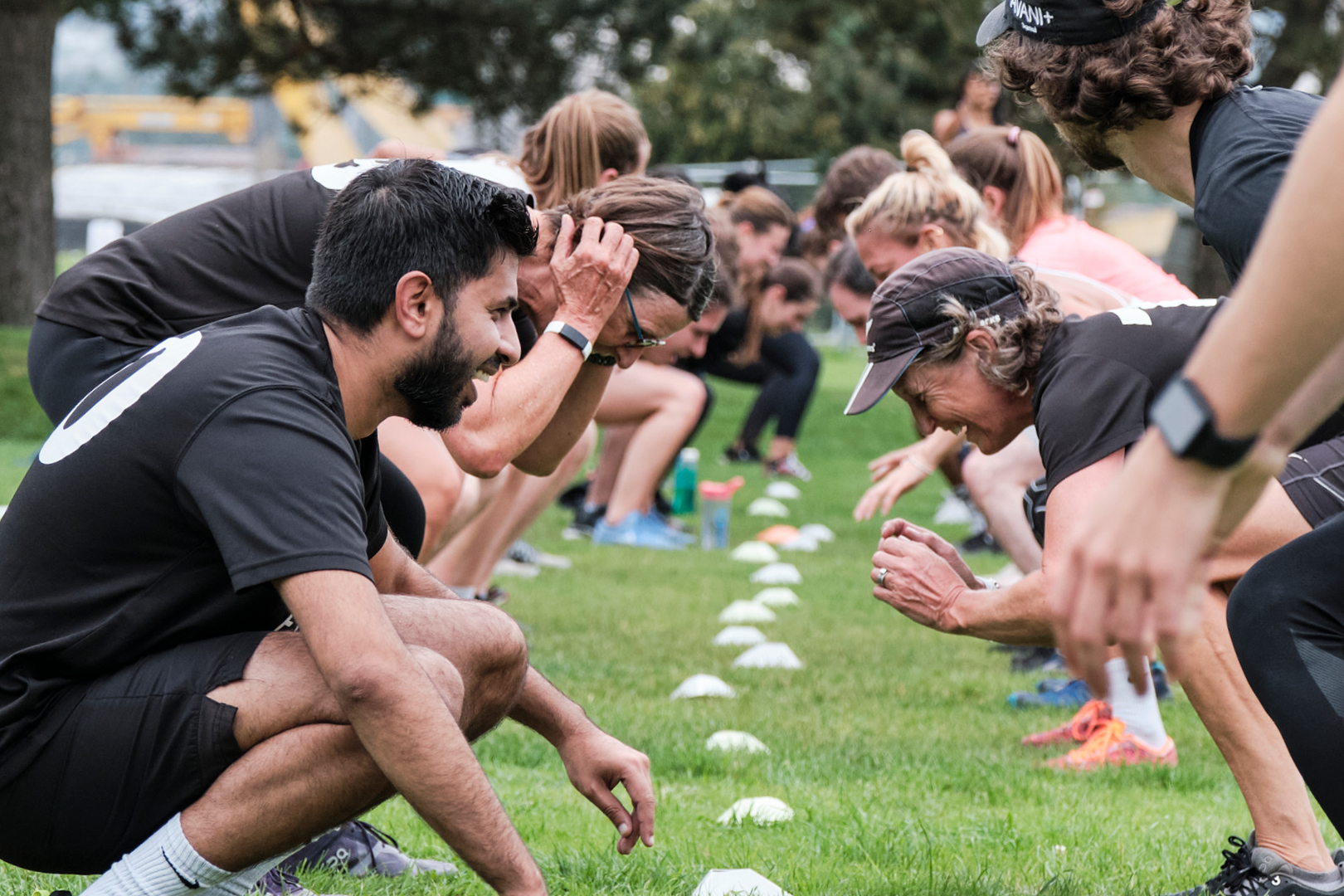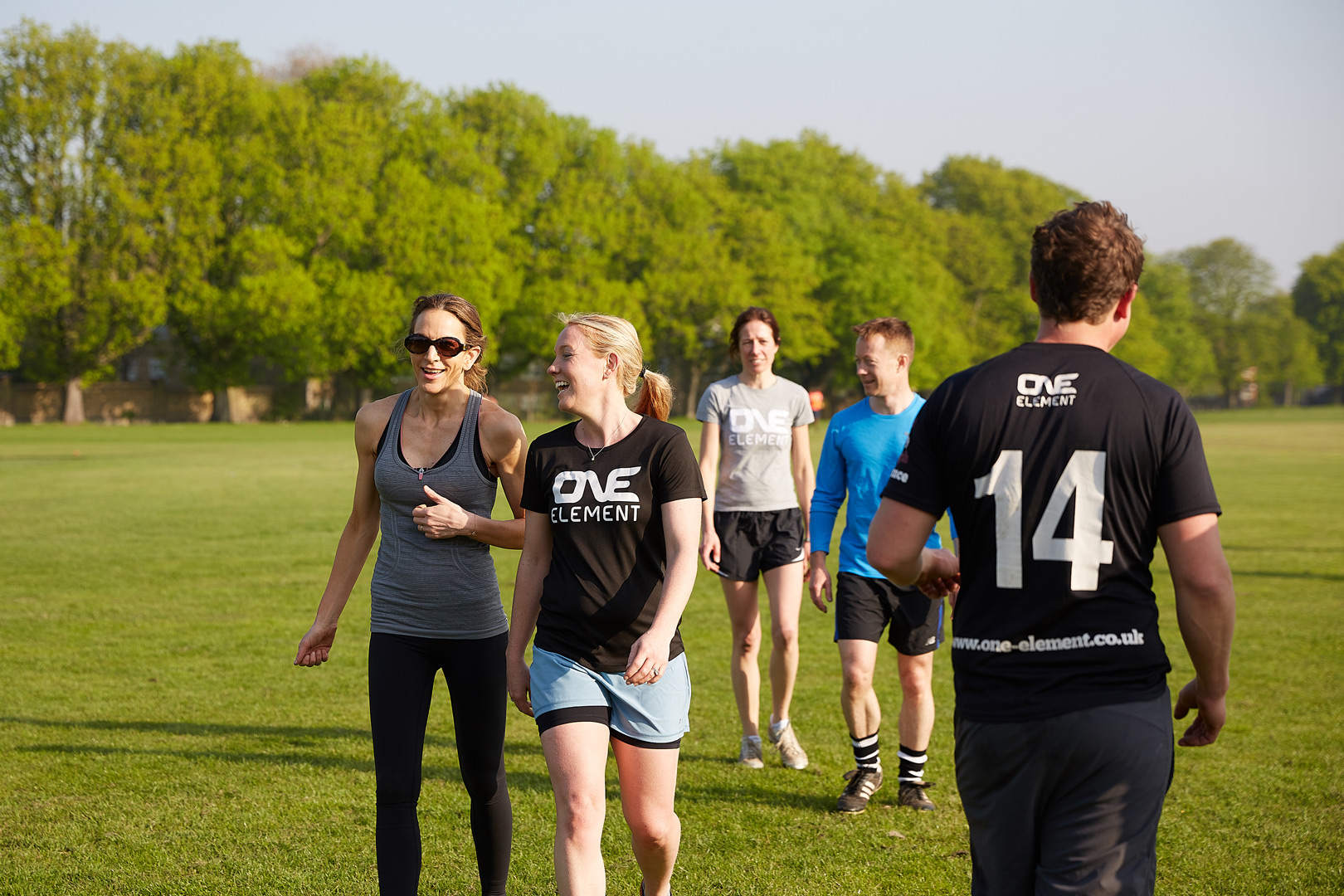 What to expect at a One Element session
An all over body workout that will leave you feeling energised and positive.
Each week you'll be met with a different session. Each week your fitness journey continues. Each week we build an environment of support and encouragement from both the trainer and each other.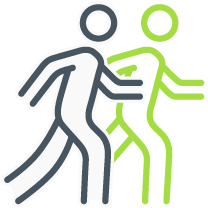 Warm-up
Our 10 minute warm-ups stay consistent ensuring you are fully ready for the session within the comfort of your own limits. As the intensity of the warm up builds, we ensure every muscle is switched on, every joint is mobilised and the mind is focused whilst catching up with fellow members.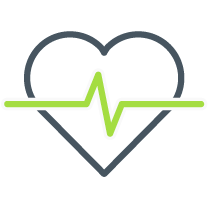 Set 1 – Cardio
Cardio sets aim to combine both teaching techniques as well as increasing speed and endurance. You'll work the lungs and heart, burn blood sugar and fats in the blood whilst positively impacting your brain including mood and creativity. You work within your own limits. Everything is optional, scalable and building slowly over weeks and months is recommended.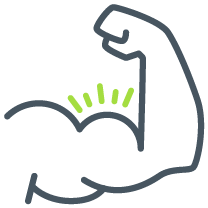 Set 2 – Strength
Now you move into a lactic tolerance set, the bedrock of proper fitness gains. In many ways, regardless of age or fitness, this is the key to unlocking previously unimaginable fitness levels. Over the weeks you'll become more and more comfortable with the lactic and strength gains. You will unlock that deep intrinsic belief that you are ok with this, this is your space. You have resilience. This set gives a warm glow to the muscles. Over the weeks this will help you store more water, vitamins, minerals and energy in the muscles.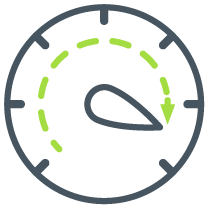 Set 3 – Speed and agility
This is where we draw on evidence based speed and agility work. Not only will this focus on the legs but upper body and core. You may experience acceleration technique teaching, balance work or changing direction tips. As you work through the session, we will educate you on what you are doing to your body.  You'll learn about the way the brain and nervous system affect the muscles, how to recruit more 'fast twitch muscle fibres' and how this can make you fitter, stronger, faster and leaner.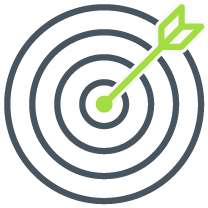 Set 4 – Core and strength
From isometric [holding positions] to rotational work, this is where you will build strength and power through the four key muscles in the core.  These exercises will make you quicker, prevent back pain, help you stand tall and quite literally pull everything into a strong, powerful core.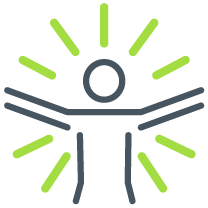 Cool down, stretch and a moment of mindfulness
This is when you take a moment. Reflect on the effort you have put in and the immense satisfaction you should feel having done a session. Here we bring the heart rate down with a yoga inspired stretch. We'll chat, we'll let you know about any upcoming OE socials, events and challenges. Then we'll take a moment, we'll stand tall, eyes closed, mouths shut, ground ourselves with a two minute breathing set. Then we walk away feeling relaxed, connected and optimistic.
Join us on Instagram to see the latest feel-good pics.
Book your FREE TRIAL now
Register for your FREE TRIAL today and experience a One Element session for yourself.
BOOK NOW
Hear from some  members about how it felt at their first OE session.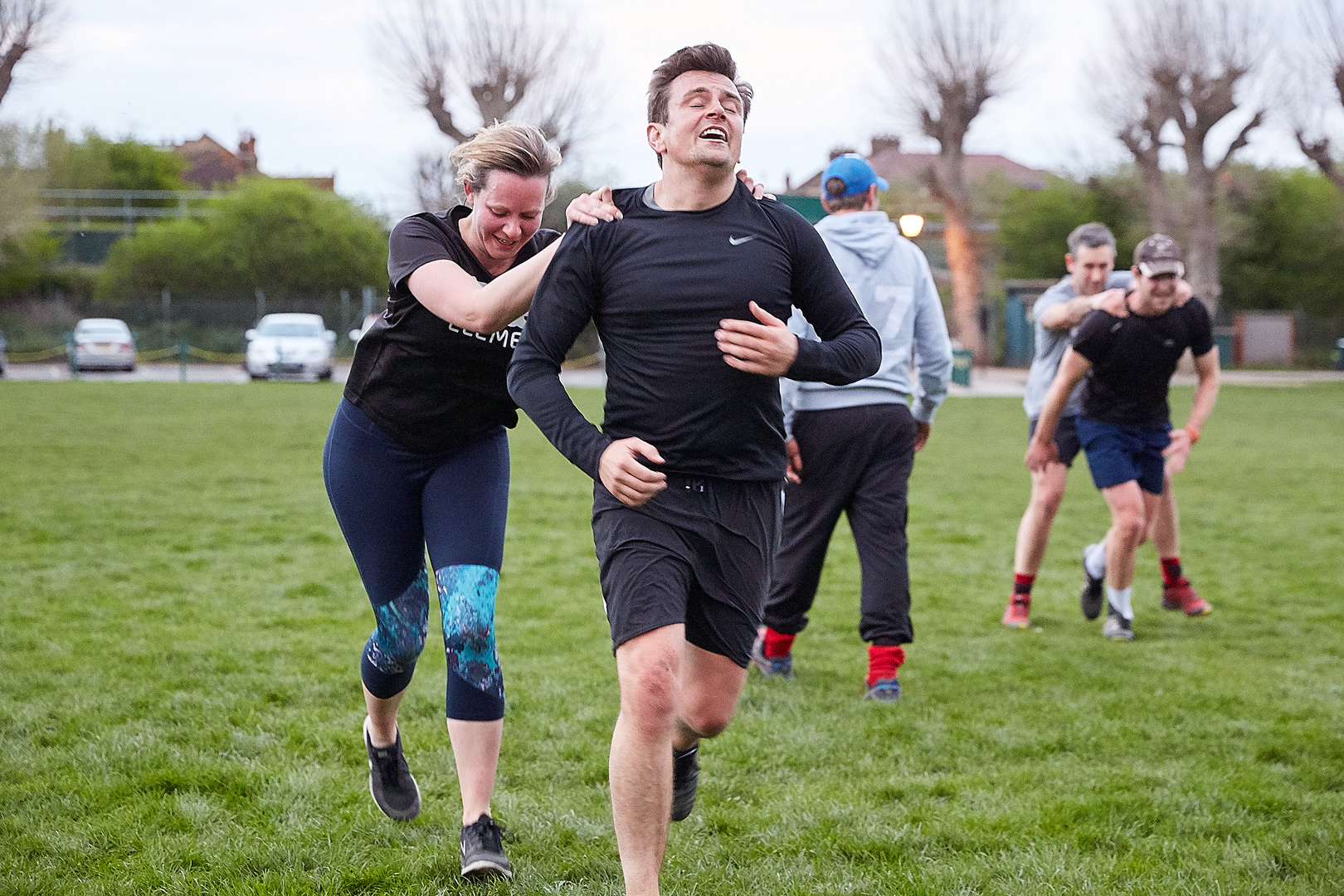 "None of the "get down in the mud and give me 20" shouting in your face. It was a lot of encouragement from both the trainer and the others so it feels like a team willing each other on to be better, not competing against one another but more against yourself."
"I was worried my lack of fitness would mean I was way behind all the others but the session runs in a way that you really don't notice. There are super fit fast ones but there are unfit ones like me starting on their journey. Never once did I feel like I stood out. We trained as a team."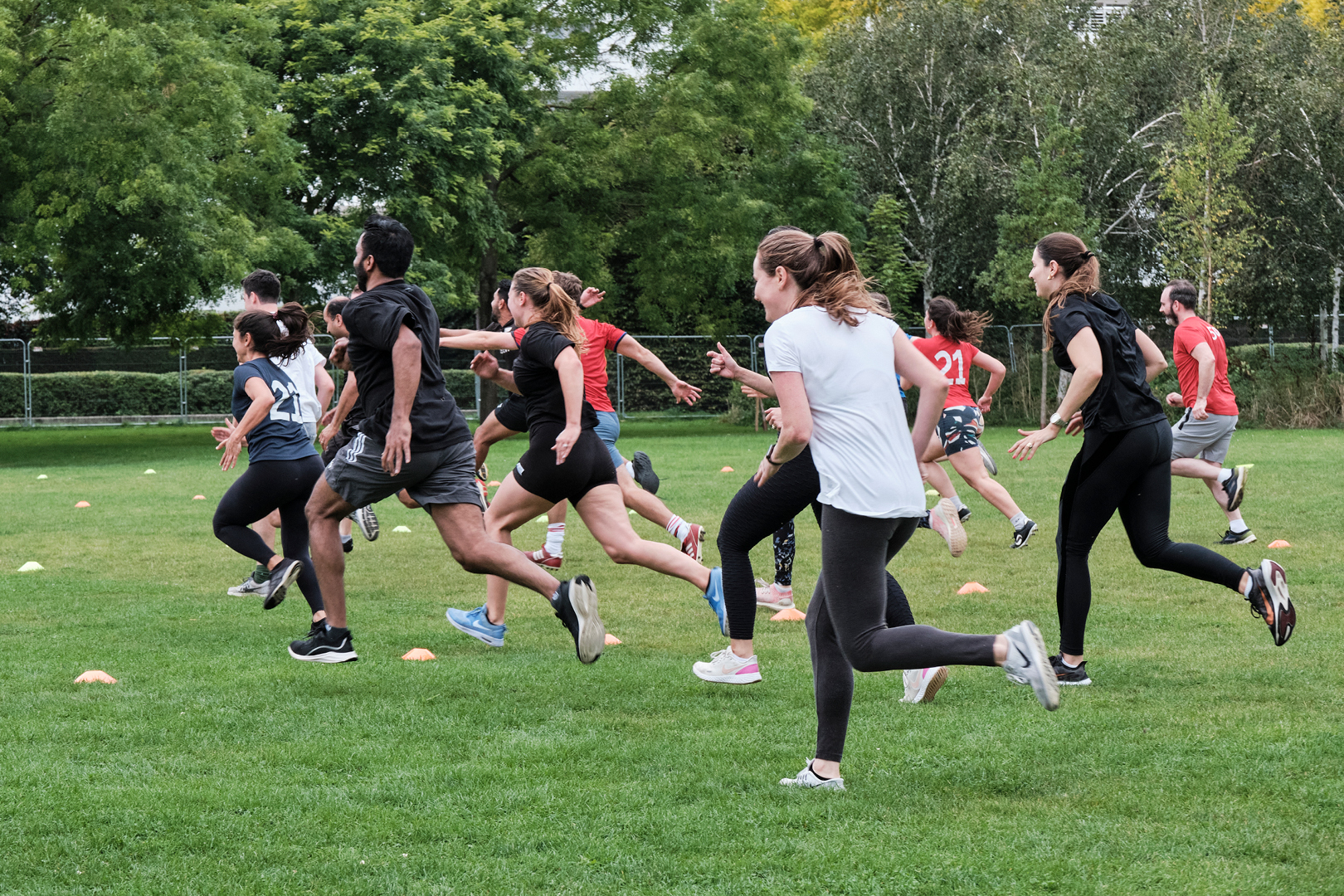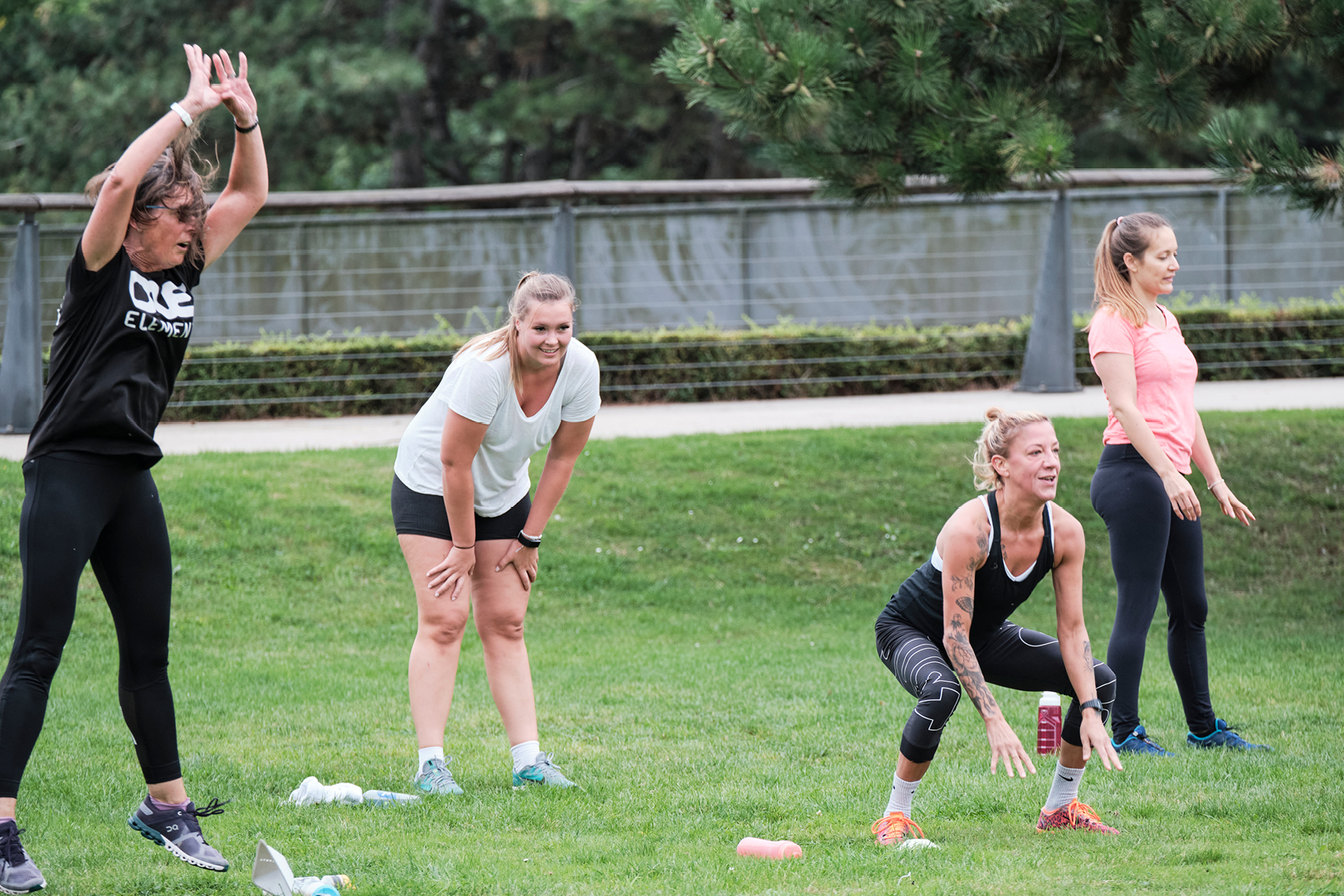 "Initially, I was very nervous but the instructors are encouraging and positive. There is welcoming atmosphere from the whole team which helped me overcome my nerves. I would highly recommend One Element; My fitness levels have improved and my physical and mental well being has also had a positive change. If you are unsure of joining, try a free class and take it from there!"